Mexico City, Mexico (October 27th, 2022) – Village Capital, with support from Moody's, wrapped up its accelerator program, Backing LatAm's Middle Class. Ten Latin American startups focused on improving economic mobility and creating pathways to the middle class received mentorship and tailored sessions on investment-readiness.
The participant entrepreneurs flew in from Argentina, Bolivia, Brazil, Chile, and Colombia to meet in Mexico City for the final working week of the accelerator, where they evaluated each other's business evolution throughout the program. Along with a strategic network of 80 mentors, investors, and key ecosystem stakeholders, the Village Capital team held a public networking event where the program's entrepreneurs built crucial connections for their growth, including with Moody's representatives.
After receiving over 100 applications from 15 countries in Latin America and the Caribbean, and selecting the top ten companies from six different countries, two startups were recognized by their peers as the most prepared for investment. These startups are helping people move from the informal sector and into the middle class and helping people in the middle class thrive.
"After all the work we did at Village Capital, we reviewed our fundraising strategy to understand if the tools we use are appropriate, says Tomás Costanzo, CEO of Uils. "I think the opportunity to work with founders is great because they have a critical perspective that is created from the experience of having built, failed and evolved many times."
"Being an entrepreneur is a trip up, down, up, and down, about five times a day. Talking with other entrepreneurs was extremely valuable because myths were collapsing, says Javier Román Co-founder and CFO of tuGerente. "In three months, with Village Capital, we managed to advance what we had planned in a year and a half, after having access to many insights that are almost impossible to obtain with our contact networks, among others."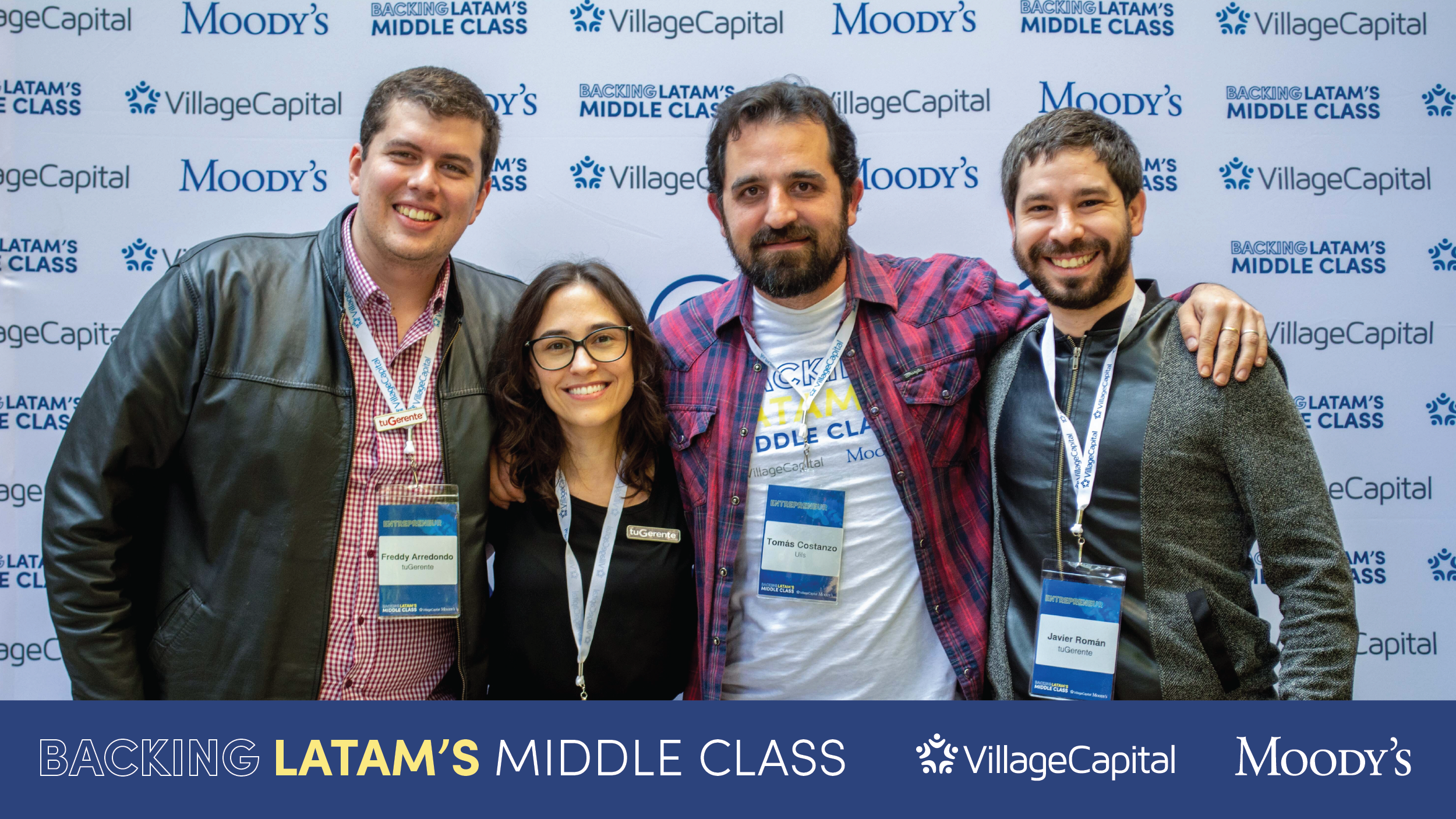 Here are the peer-selected startups:
tuGerente (Santa Cruz de la Sierra, Bolivia) is a financial data centralizer for SMEs that have difficulties keeping track of their finances and inventory. Its users can use their information to make decisions and document their economic activities.
Uils (Buenos Aires, Argentina) provides loans for mobility gig workers. They suggest customized financial products, such as payment advances, top-ups, consumer, and car loans through a scoring system that analyzes their driving history.
For more information, reach out to Sofía Cándano at Village Capital (sofia.candano@vilcap.com).
About Village Capital
Village Capital helps entrepreneurs bring big ideas from vision to scale. Our mission is to reinvent the system to back the entrepreneurs of the future. Our vision is a future where business creates equity and long-term prosperity. Since 2009, we have supported more than 1,400 early-stage entrepreneurs through our investment readiness programs. Our affiliated fund, VilCap Investments, has invested in more than 110 program graduates. Our affiliated fund, VilCap Investments, has invested in more than 100 program graduates, including nine early-stage Latin American companies like ePesos (2016), Fintual (2017), and Huli (2017).
About Moody's
Moody's (NYSE: MCO) is a global integrated risk assessment firm that empowers organizations to make better decisions. Its data, analytical solutions and insights help decision-makers identify opportunities and manage the risks of doing business with others. We believe that greater transparency, more informed decisions, and fair access to information open the door to shared progress. With approximately 14,000 employees in more than 40 countries, Moody's combines international presence with local expertise and over a century of experience in financial markets. Learn more at moodys.com/about.
Moody's builds toward a world where more people have access to opportunity, and where everyone has what they need to grow and thrive. We are committed to opening the door to brighter futures through our global corporate social responsibility programs connecting people around the world with the knowledge and resources they need to succeed. For more information visit moodys.com/csr.