Habitat for Humanity's Terwilliger Center for Innovation in Shelter and Village Capital ran a virtual accelerator program in the Andean Region to support startups that are creating innovative products and services that improve the quality of life of Latin American families. Below are the stories of the founders of the 10 startups that participated in the program.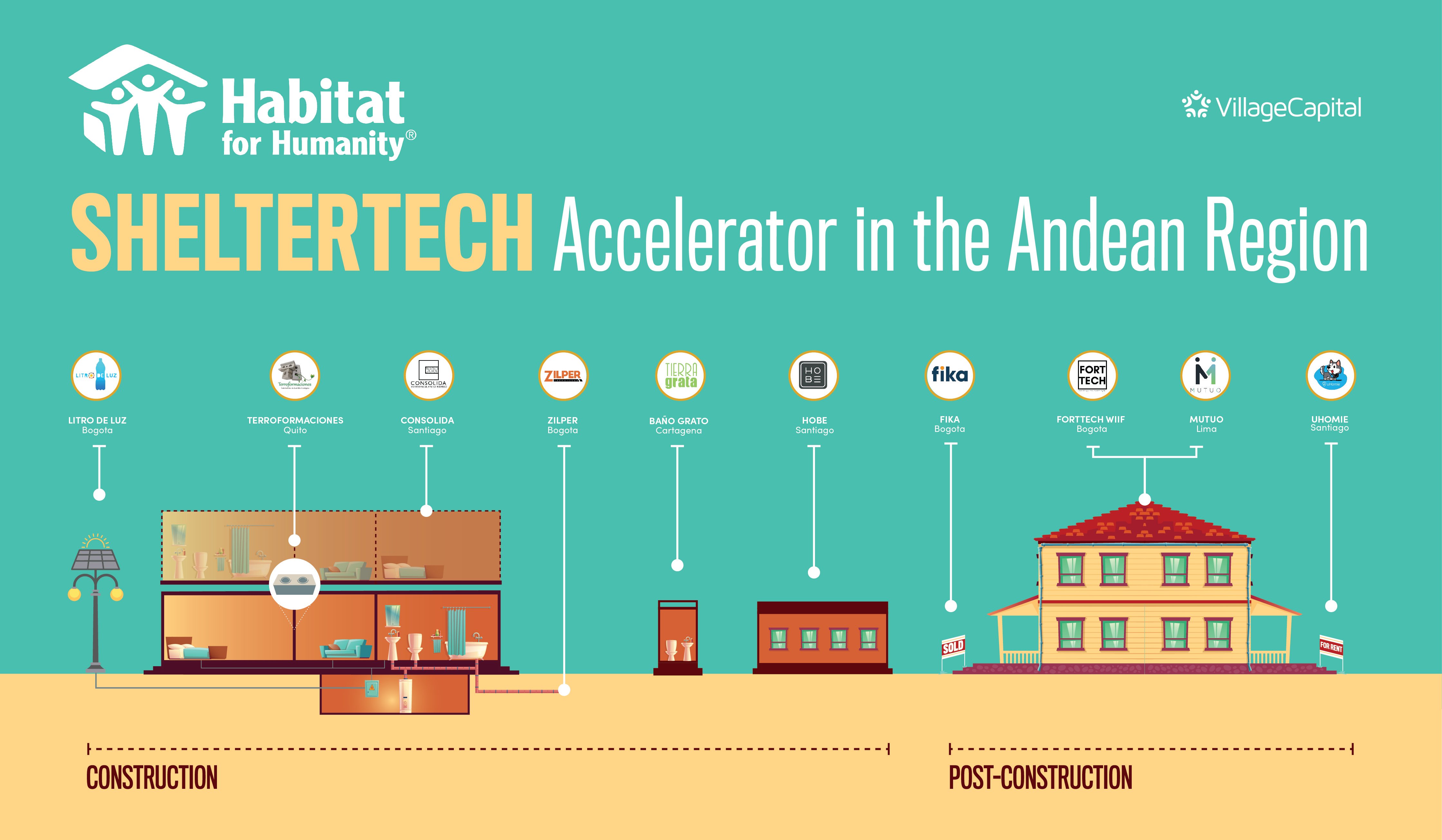 Litro de Luz (Bogota, Colombia)
Camilo Herrera travelled from town to town with a project that tried to provide access to the internet to rural places in his homeland Colombia. After losing his scholarship to become a health professional, he discovered another way to help his community. Using his background in industrial engineering, he developed an intelligent solar pole that provides rural Colombians with access to public lighting and WiFi.

Terroformaciones (Quito, Ecuador)
Jorge Guallichico grew up in Quito, Ecuador, to a father that had an artesanal brick business. He was involved in the construction process at an early age and always thought that the process was opaque and complex. After traveling to other countries through his subsequent job, he learned from different construction processes and was motivated to tackle this problem through automation. Jorge bought a machine with his savings and started experimenting along with his father until they created a type of brick that can be assembled, which is up to 500 times more resistant to earthquakes than traditional brick. He believes it will eventually be very easy and safe to use by those who don't have previous construction experience.

Consolida (Santiago, Chile)
Gabriel Lagos, a civil constructor from Chile, worked for a couple of NGOs for some years. He saw that their efforts were not enough to reach all the people in need. As one family house was upgraded, various relatives and neighbors were still left without a proper place to live. At that time, the government released a subsidy allowing contractors to build more than one house per land. He decided to take on the challenge and be the link between this new government's opportunity and the people who needed it the most by building quality condominiums for multigenerational households.

Zilper (Bogota, Colombia)

The Brothers Daniel and Roberto Zilliante grew up in the capital of Colombia and had access to water, yet its inconsistent flow had them timing their showers. Their family had a close relationship with the construction industry so they were aware of the huge pipe problem that Colombians (any other Latin Americans) have.

As an employee at a large robotics company, Roberto knew great technologies existed but couldn't be afforded in Latin America. He also knew that up to 70% of the installation budget is typically assigned to digging trenches. The brothers created a technology to install water pipes without the need of digging a big trench.

Baño grato (Cartagena, Colombia)
When Alexander Durán worked as a social worker, he saw that a lot of nonprofits were putting money behind the wrong things, "what we really need to be focusing on," he thought "is helping communities have access to basic services, such as sweyer systems." Alexander knew this problem first hand as he sometimes lacked access to basic services while growing up in Córdoba, Colombia. He decided to create a solution himself and developed modular bathrooms that improve the quality of life of hundreds Latin Americans.

Hobe (Santiago, Chile)
Francisco Rojas is a serial entrepreneur. But after working on a wide variety of projects, he knew they all lacked something: the ability to help others live their life to the fullest. Globally, thousands of people pass away due to a lack of shelter. Francisco decided to shift his career and address this problem through mobile and safe shelters that provide warm nights to homeless people. More recently, he adapted the shelters to be safe resting places for frontline health workers who are currently fighting the pandemic.

Fika (Bogota, Colombia)
When Nicolás Pinzón tried to purchase a house after years of saving part of his salary, he realized that his goal was still very far away as he was required to put down 20 to 30% of the total value to begin the process. He imagined thousands of other Colombians were in his same position, and he was not wrong. He created Fika, a platform that guides people through the essential steps and documentation they need to accomplish this same dream by being an articulator between banks and real estate organizations.

Forttech WIIF (Bogota, Colombia)
Architects Carlos, Mateo and Leonardo noticed a familiar trend through construction projects: stress around finances, lack of responsibility from constructors, delayed deadlines, and trouble obtaining materials. They saw an opportunity and created an app that uses AI to visualize spaces beforehand. This way, constructors and planners are able to better plan costs and time ahead of the project by avoiding unexpected material shortage, and having a guide to properly construct.

Mutuo (Lima, Peru)
Sebastián Paredes and Marisol Layseca met at an urban development project while studying architecture at university. They worked in the surrounding areas of Lima, where most houses are self made and are extremely vulnerable to natural disasters such as earthquakes. They decided to change the status quo and improve the quality of life of their city's inhabitants by creating a platform that helps these house owners meet architects and people who sell and distribute materials at accessible prices.

uHomie (Santiago, Chile)
José Colina grew up in a coastal town in Venezuela, migrated to Chile and later on, to the US. He found that renting a house as an immigrant in Latin America, especially when your credit history is in a different country, is troublesome. His close relationship with technology and past experience, made him visualize an efficient and easier way to rent a place and he created an efficient digital marketplace for landlords and tenants.