Washington, DC (October 6, 2022) — Village Capital has announced that 45 companies have been selected to join the IBM Hyper Protect Accelerator class of 2022. As part of this program, startups will receive access to IBM Hyper Protect Services, which is designed to provide startups with sole authority over their sensitive data.
For the third year running on IBM's zDay annual gathering, Village Capital and IBM announced the newest batch of 45 data driven companies joining their signature Hyper Protect Accelerator for 2022. Launched in 2019, the IBM Hyper Protect Accelerator (HPA) works with companies leveraging data to increase access to essential services. Many of these impact-driven companies offer industry-disrupting services, making it key to navigate the increasingly sensitive, regulated, and vulnerable space that is the data privacy landscape. The Accelerator showcases IBM Hyper Protect Services (running on IBM Cloud and powered by IBM LinuxONE) that is designed to provide a secured solution for personal and sensitive data on the public cloud, purpose built for data privacy.
Having already supported 100+ impact-driven startups using highly sensitive data to improve the access and quality of digital, financial and healthcare services, this year's cohort will receive up to $120,000 of IBM Cloud credits, two years of IBM technical mentorship, and three months of investment-readiness training to help founders further refine their products, migrate sensitive services to a highly secured platform, and define the necessary next steps in raising capital. These companies will also be invited to join our global Datatech for Good Coalition of more than 250 mentors, investors and stakeholders dedicated to building a community at the intersection of impact and data ownership.
"We are proud to support ​a diverse group of impact-driven startups with game-changing security and encryption solutions that protect sensitive data," said Yvette LaMar, Director, IBM zSystems Influencer Ecosystem. "The Hyper Protect Accelerator program is just one example of the investment IBM is making in data privacy ​globally."
This announcement comes hot on the heels of the recently concluded IBM zDay - which hosted a record number of more than 22,000 unique live views across 114 countries to hear from global thought leaders, stakeholders, students and key players working within the IBM zSystems ecosystem. The Global Head of the IBM Hyper Protect Accelerator, Adam LG Ring, and Village Capital's European Regional Director, Ben Younkman, announced the newest class of the IBM Hyper Protect Accelerator (IBM HPA) and were joined by some of the winners. Village Capital helped host three panels alongside IBM HPA alumni where they explored the intersection of impact and data privacy.
Speaking on this latest cohort, Younkman shared, "Because of the importance that data intake and analysis has on our society, we have to make sure that data-driven services are a conduit to more equitable access, rather than a barrier. We're excited to continue working with IBM to support startups leveraging data to create impact at all stages around the world. This year's stellar cohort has been selected from a pool of over 230 applicants working within fintech, healthtech, datatech, data privacy, edtech, insurtech, digital assets, metaverse and other sectors in the technology, data and impact space. Building on our commitment to mitigate bias and build more inclusive and equitable ecosystems, 46% of the companies we've selected have a female founder and more than 52% have a Black, Brown, or LatinX founder."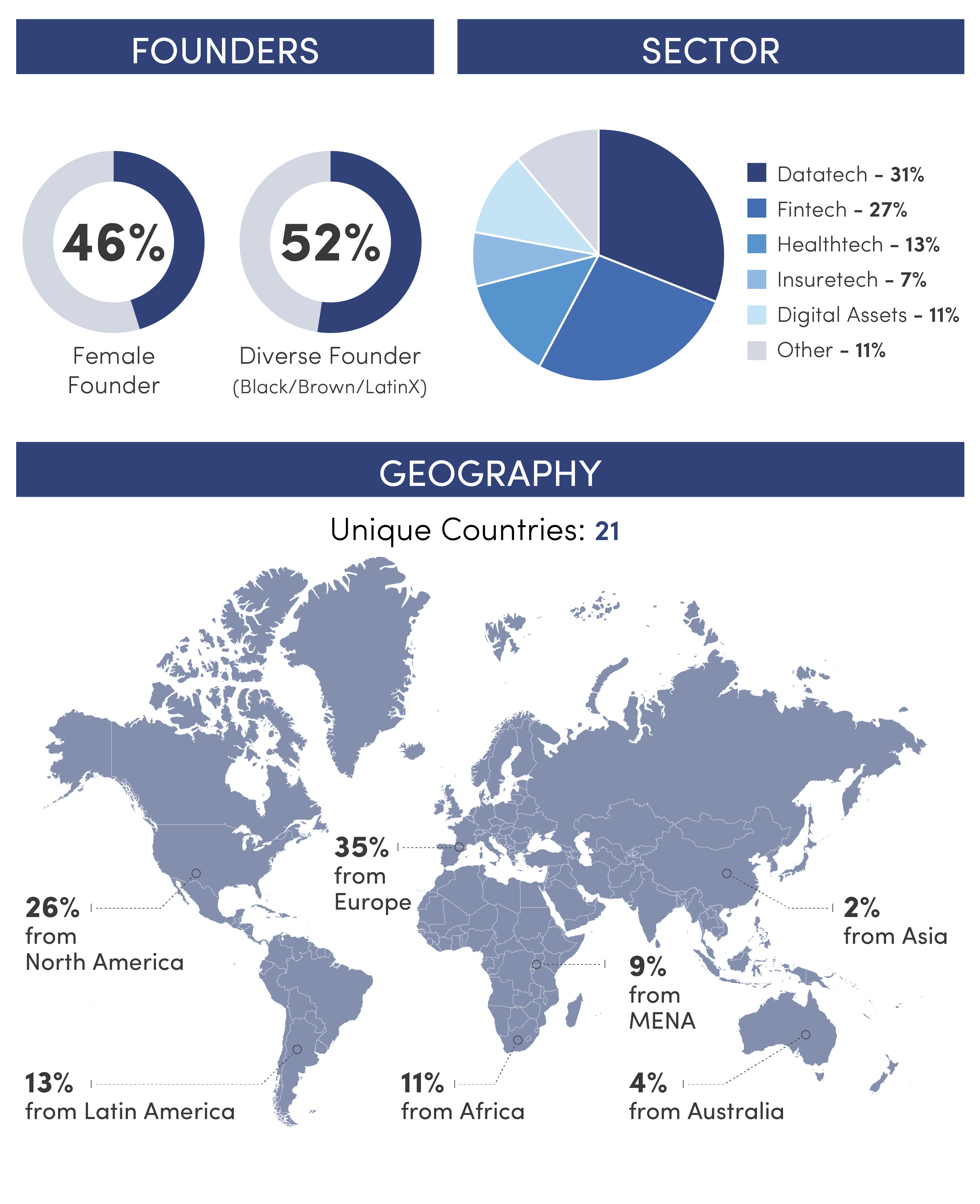 All participating companies will receive 2 years of technical mentorship from IBM (including IBM Cloud credits), and 3 months of investment readiness training from Village Capital, business development mentorship, investor matchmaking and milestone planning.
The selected startups include:
Cohort 5
Alloxentric

(DataTech - UK): An omnichannel communications company and conversation analytics platform based on AI, with focus on Quality Assurance.

Bismart (InsureTech - Kenya): An online insurance marketplace that enables customers to research, compare and buy the right insurance, basically enabling them to shop for insurance the way they shop for their air ticket or holiday.
Bona (FinTech - Egypt): A brokerage solution for the MEA region's users to exponentially grow their wealth by simplifying and democratizing access to global investment opportunities.
Chatclass (Edtech - Brasil): An online AI-driven conversational learning platform for professional development and upskilling of workers via WhatsApp.
Con Feria (FinTech - Mexico): The company offers traditional financial companies a smooth migration of their existing products and services to a digital ecosystem.
CurveBlock (FinTech - UK): The Company removes the use of fossil fuels in the world's largest asset class and allows people to become financially independent.
Friends of Hyper Protect - Class 2
For more information, reach out to Ahmed Fadl (ahmed.fadl@vilcap.com) and Eva Waweru (eva.waweru@vilcap.com) at Village Capital.
For more information about IBM, visit ibm.com/news.
About Village Capital
Village Capital helps entrepreneurs bring big ideas from vision to scale. Our mission is to reinvent the system to back the entrepreneurs of the future. Our vision is a future where business creates equity and long-term prosperity. Since 2009, we have supported more than 1,000 early-stage entrepreneurs through our investment readiness programs. Our affiliated fund, VilCap Investments, has invested in more than 100 program graduates, including 8 early-stage US fintech companies like Vault, Fig Loans, and Finix.