For Earth Day 2021, we're highlighting leaders who believe in a world with zero hunger and zero waste and currently serve as advisory committee members for The Kroger Co. Zero Hunger | Zero Waste Foundation Innovation Fund. In collaboration with Village Capital, the Innovation Fund has developed an investment-readiness program for startups working to prevent, recover and recycle food waste in the U.S. Learn more about the program here.
What do you think it will take to create a world without hunger or food waste?
The issues underlying hunger and food waste are quite complex and intertwined, but the most notable link between the two issues is that reducing food waste could increase food security and help feed the hungry. We all have a role to play and our individual choices can reduce food waste. We can all individually reduce our consumption of resources and waste, it'll have both personal benefits and larger scale impacts in the aggregate. The world wastes 1 billion tons of food a year mostly at home! At the household level, the most impactful way to reduce waste comes down to being thoughtful about what food we purchase, the way we eat, and how we store and discard food — all of these small decisions make a big difference. For example, about 90 percent of tossed food can still be consumed — that means a majority of food thrown away is perfectly safe to eat. So, even small decisions like not throwing away food matters.
The problem won't go away overnight, but small decisions around cooking, storing and shopping for food can make a difference and minimize the issue one choice at a time. It may not seem like much, but it all adds up. And ultimately, the best way to cut back on food loss and waste is to not create it in the first place.
In addition to individual decisions, we need cooperative efforts involving governments, supportive policies and regulations, corporations, NGOs, environmental organizations, communities, and all stakeholders in the entire food supply chain. Technology, incentives and partnerships will also move the needle. Finally, we need further efforts on the part of scientists, businesses, incumbents, and investors that can lead to technological solutions.
Why is this work important to you, personally and professionally?
Food loss and waste is deeply unsettling to me. In a world with enough food to feed all people, it just does not make sense that people continue to go hungry. To put numbers to it, 820 million people went hungry in 2019.
Wasting food is also fueling climate change and squanders natural resources - from the energy it took to grow, maintain, and harvest crops and then transport, process, and package the food in addition to the water, materials, soil, labor, and time inputs. Up to 10% of global greenhouse gas emissions are associated with food that is not consumed and food rotting in landfills produces methane — a greenhouse gas more powerful than carbon dioxide. Food waste also strains waste management systems and exacerbates food insecurity. It's truly a harmful self perpetuating cycle.
It's important to me because of the interconnectedness of all the issues that food waste touches on with respect to the overall food system, human and planetary health and ultimately because when we destroy nature we destroy ourselves. I am passionate about the role of innovation, entrepreneurship, markets and system investing as a theory of change particularly in promoting change towards a healthier and sustainable food system. Food impacts community and human health and wellbeing— it is the most critical aspect of our lives.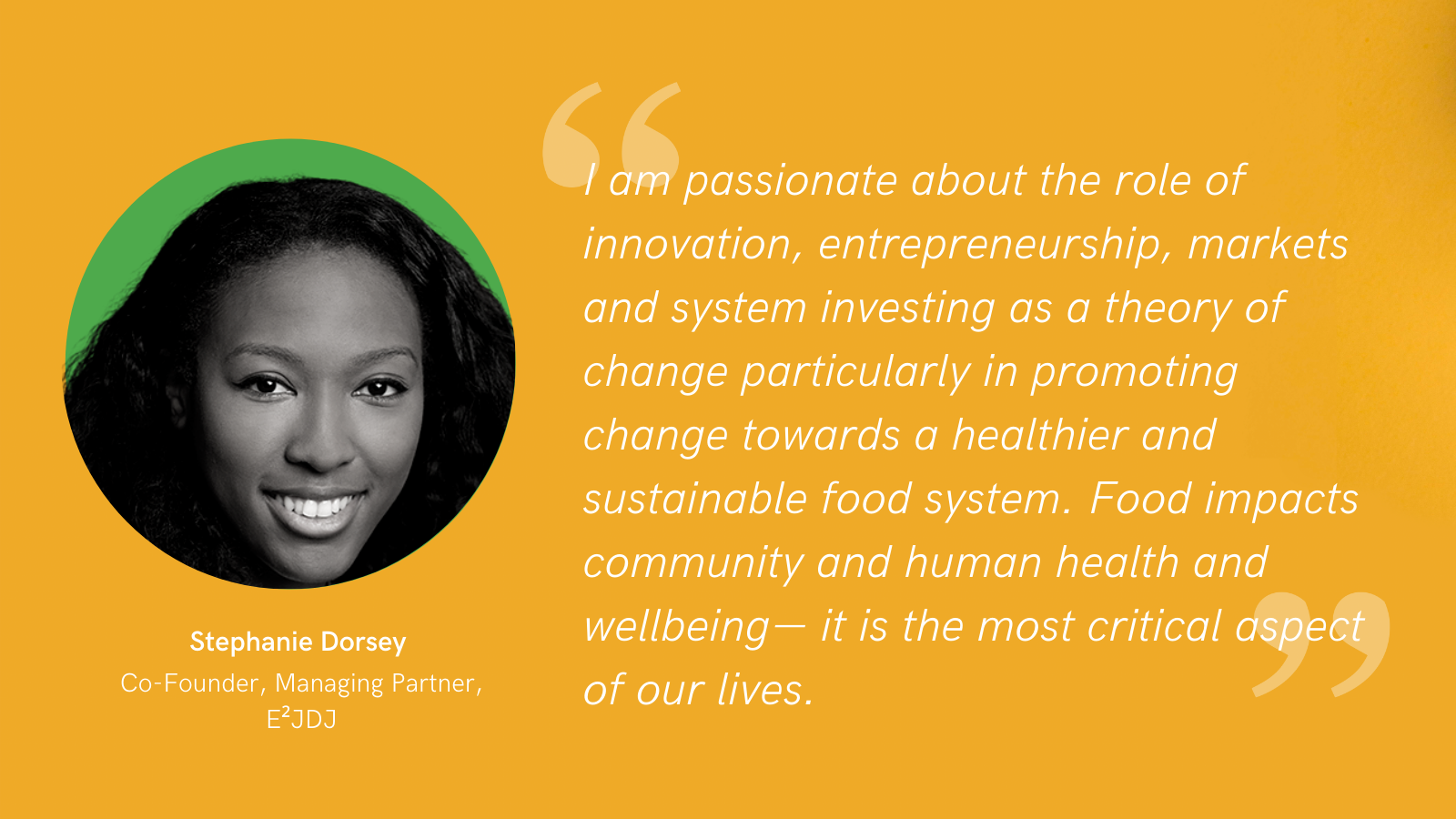 What are you most proud of? What did you learn along the way?
I am most proud of launching my venture capital fund, E²JDJ, alongside my partner Corey Jones. We have built a firm that aims to identify, support and scale unconventional solutions addressing the most pressing issues associated with the broken food system. I am honored to have the privilege to back founders who are building a better world. The future is bright and we have only scratched the surface in terms of the potential for food technological innovation.
I have learned so much along the way in navigating the choppy waters of entrepreneurship! Building something is never easy and I've learned to stay resilient. You must have the ability to absorb, adapt, and evolve to endure the journey. I've also seen that the most successful people don't know it all, but they bet on themselves to figure it out along the way. One of my most profound and fulfilling realizations is that following your purpose and passions and aligning it with how you spend your time is what brings the real joy.
Finally, another lesson worth sharing is that building a business (or generally anything) can never be an isolated effort — finding helpful support and access can supercharge growth and pay dividends long term!