This interview is part of a series about innovative startups in Village Capital's network that are responding creatively to the challenges raised by COVID-19.
For years, Sevamob has been working to get low-cost preventive health services to rural communities in India that have limited access to healthcare.
Sevamob combines AI-based triage and point-of-care screening with telehealth and onsite pop-up clinics.
The company's on-site pop-up clinics are staffed with a physician, a nurse and a data analyst that can be set up in as little as 15 minutes. They also have a cloud-based system that they use to track data, collect aggregate health statistics and refer patients to traditional health providers.
We spoke with Shelley Saxena, CEO and founder of Sevamob, about what they're doing in response to the coronavirus.
On the need for mobile health clinics: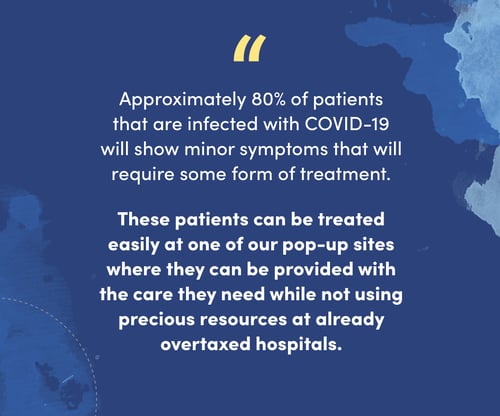 Hospitals all over the world are inundated with treating seriously ill COVID-19 patients. Our model is intended to reduce the burdens already placed on health systems by providing an outpatient solution to the problem.
It is important to remember that approximately 80% of patients that are infected with COVID-19 will show minor symptoms that will require some form of treatment. These patients can be treated easily at one of our pop-up sites where they can be provided with the care they need while not using precious resources at already overtaxed hospitals.
On how their process works:
We make first contact with the patient over the phone using our telehealth platform. If they display symptoms, we schedule an appointment at one of our pop-up clinic locations or mobile units.
Each Covid-19 unit is staffed with two nurses: one nurse does an initial assessment and onboards the patient into our system, while the other nurse performs the COVID-19 testing. Based on the results of the test, we facilitate a telehealth consultation with a medical provider either on the patients phone or our tablet. All of the patient data is entered into our proprietary health system where it is aggregated to determine if clusters of COVID-19 are present in a given geographic area.
On expanding to the United States:
We recently launched four pop-up clinics in Atlanta, Georgia where we have partnered with two organizations that refer us to workers who are typically uninsured: Giving Kitchen, which works with part-time restaurant workers, and Serenity Steps, which works with sex workers..
Our model looks exactly the same in the US as it does in India. The only differences are that in the US we use only rapid testing kits that have been approved by the FDA, and we provide prescriptions for medications instead of dispensing medicines ourselves.