The IBM Hyper Protect Accelerator is an investment-readiness and technical mentorship program. It supports impact-focused startups leveraging highly sensitive data to improve the quality of, and access to, a wide variety of different services, including digital, financial, and healthcare services.
Since 2019, the program has supported 146 startups from 36 countries. Village Capital and IBM have worked closely with diversity-support organizations and our Program Advisors to source and select strong companies with diverse founders. These efforts resulted in 45% of our startups having at least one female founder, and 59% having at least one Black, Asian, or LatinX founder across all the 146 alumni companies.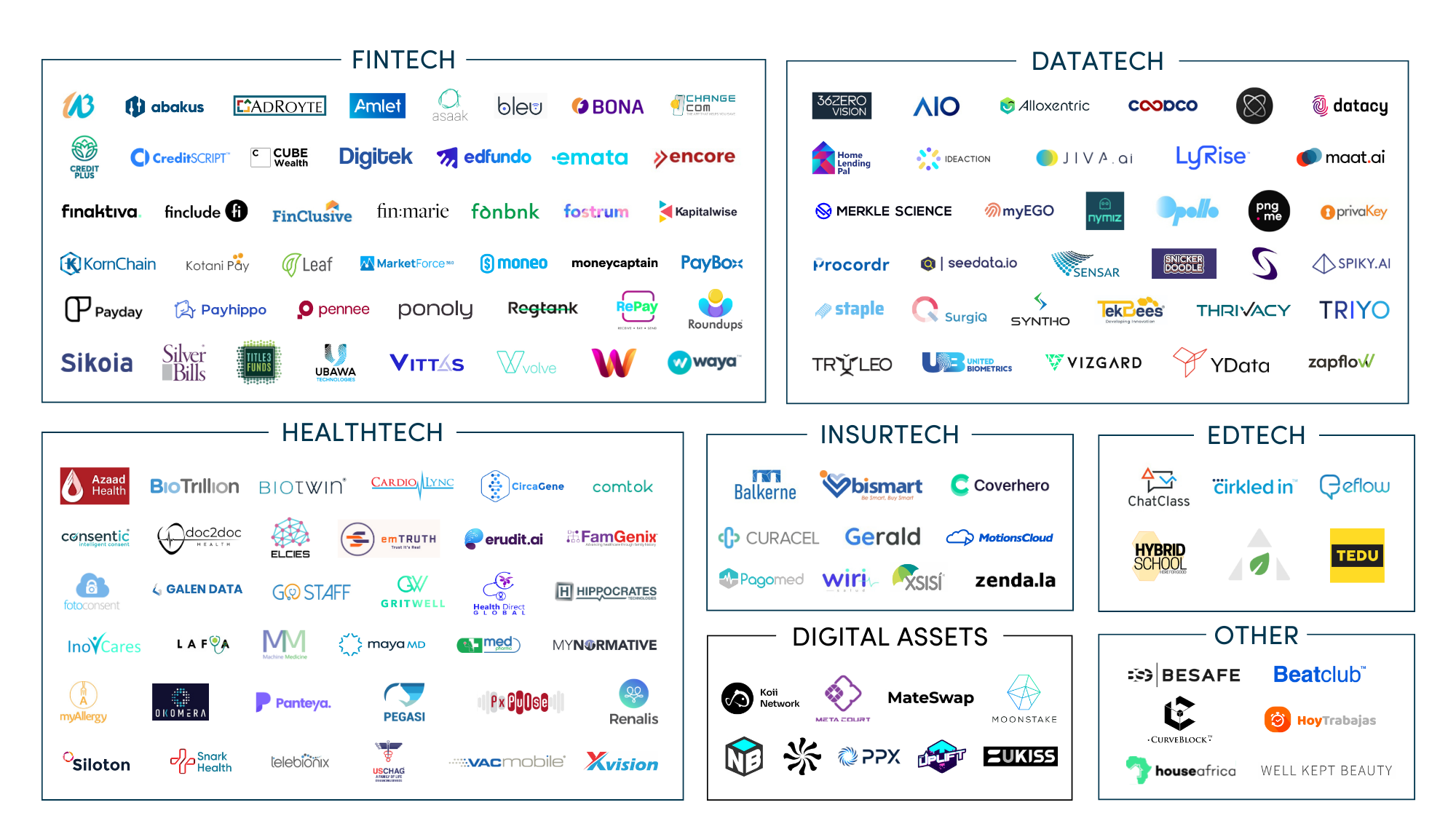 Datatech companies:
AIO Verified Identity:

Provides a customer-centric, reusable ID vault to help fintechs in customer due diligence.

Alloxentric: Is an omni-channel communications company and conversation analytics platform based on AI, with a focus on Quality Assurance.
CyphLense: Adds an extra layer of security to protect businesses/customers against sophisticated cyber attacks.
Coopco Technology: Is an end-to-end software that provides workflow solutions for cooperative organizations.
Datacy: Allows people to collect, access, manage, and sell their online data easily and transparently.
Home Lending Pal: Provides mortgage underwriting solution that reduces time to buy via its AI chatbot.
Jiva.ai: Is a machine learning platform that simplifies the process of creating, deploying, and maintaining AI solutions - and more specifically, Multimodal AI solutions, for data-driven healthcare.
LyRise: Connects adept AI talents from emerging markets to global organizations at one third the time and cost.
Maat AI: Builds a safe and practical way for people and companies to build trust, by enabling digital identity.
Merkle Science: Is a next generation of crypto threat detection, risk management, and compliance solutions.
myEGO: Delivers the next generation of digital identity: decentralized and self-sovereign.
Nymiz: Anonymizes personal data focused on the pseudonymization of unstructured data.
Opollo Technologies: Is a cloud-based AI platform that learns from a wide range of healthcare data to yield more accurate surgery duration forecasts in minutes, without requiring the implementation of workflow changes, in addition to providing a marketplace for healthcare facilities to sell the resulting operating room vacancies to health insurance companies.
Procordr: Uses the vast array of Cyber Security data available to CISOs to guide them in their decision-making.
Pngme: Provides financial institutions with a unified data API that allows them to develop financial profiles of customers.
Staple AI: Automates the extraction and processing of document data by leveraging AI to extract the required data.
Syntho: Offers privacy-preserving synthetic data to unlock data and remove legitimate privacy concerns.
Seedata: Helps businesses identify previously undetected data leakage incidents and reduces incident costs.
Snickerdoodle: Is leveraging blockchain to create a first-of-its-kind, dynamically secure data economy that benefits all stakeholders, including data owners.
Sorius: Offers a unique responsive digital web app synchronized with the APIs of market leaders in connected objects and sports applications and direct automation with user activity sessions.
Spiky.ai: Utilizes AI to create 48 quantifiable trackable metrics to connect the human factor with hard metrics of interest.
Sensar: Increases the safety, liveability, and accessibility for every inhabitant while lowering the costs, by providing accurate information on which our customers base their maintenance planning.
SurgiQ: Supports hospitals' operational excellence by providing AI-based healthcare planning tools, reducing time spent for scheduling activities, and increasing resource utilization.
Triyo Software: Provides project management collaboration software that can elevate your team's current workflow processes.
Tekbees: Leverages 3D face recognition, identity documentation, and money laundering prevention processes which decreases the possibilities of fraud.
Truleo: Enables departments to conduct data-driven training of officers, establishes, and promotes best practices and proactively mitigates risk.
Urgify: Provides a new way to anticipate emergencies and pay your medical hefty bills.
United Biometrics: Offers secure access control, MFA (Multi-Factor Authentication), and identity verification solutions, including behavioral and physical biometrics).
Validide (Thrivacy): Is a decentralized digital identity wallet solution and community providing mechanisms for people to gain control over all their personal identity information, deciding what they share and when.
VIZGARD: Offers computer vision tools to help safety and security providers rapidly identify and respond to problem events.
YData: Helps data science teams collaborate and build the best training datasets and accelerate AI and ML.
ZapFlow: Is a cloud-based productivity platform for investing teams in the alternative investments space.
36ZERO VISION: Is an AI-powered computer vision technology for visual quality control in manufacturing that uses proprietary deep learning algorithms to provide automated image acquisition, fault inspection, and optical character verification.
Digital assets companies:
Edtech companies:
Cirkled In:

Is an online platform for youth to showcase their talent and connect to the best-fit opportunities.

Chatclass: Is an online AI-driven conversational learning platform for professional development and upskilling of workers via WhatsApp.
eFlow: Is an educational platform powered by an interactive chatbot that enhances learning delivery and management.
Hybrid School: Is a registered online Cambridge International School designed to deliver personalized education to students across the globe. Hybrid School customizes and builds online schools for physical schools around the world.
Kyros AI: Provides private college counseling services delivered in a simple, comprehensive, affordable and automated manner.

TEDU:

Provides educational institutes and their students a suite of out-of-classroom academic resource utilities.
Healthtech companies:
Fintech companies:
Amlet:

Makes KYC for banks, and financial service companies, more easy and secure, preserving customer privacy.

Abakus: A peer-to-peer end financial ecosystem, specialized in payments, remittance, and foreign exchange.
Adroyte: Provides Fintech solutions (lending, virtual banking, etc.) for banks, telcos, and other verticals.
Asaak: Operates a digital lending platform that offers mobile financial services across Uganda to strengthen businesses.
Bona: Provides a brokerage solution for the MEA region's users to exponentially grow their wealth by simplifying and democratizing access to global investment opportunities.
Con Feria: Offers traditional financial companies a smooth migration of their existing products and services to a digital ecosystem.
ChangeCom: Provides personal financial management solutions built for millennials for better financial health.
Credit Plus: Is a digital platform that provides flexible earned-wage solutions to employees.
Creditscript: Provides consistent digital money experiences, competitive savings rates in the market, and AI data recommendations to close the advice gap.
Edfundo: Sets out to give kids and teens an unrivaled banking experience with a core focus on financial literacy.
Emata: Is disrupting the $240bn farmer financing in Africa, by providing digital loans to farmers.
Finaktiv: Is an online financial services platform for SMEs in Colombia offering a wide range of financial and non-financial solutions.
Finmarie: Helps women in Europe on their path to financial independence by offering the right tools and creating a combination of education, self-exploration, and support.
FinClusive Capital: Offers an embedded financial crime compliance (FCC) platform that combines traditional banking with the power of blockchain-enabled payments and virtual asset networks.
Finclude: Is reinventing credit scoring within the EU, using AI, ML, and behavioral modeling technology.
Fonbnk: Enables the friction-free movement of value for unbanked people using prepaid mobile data credits.
Kapitalwise: Enables automated and precise client interaction for financial institutions.
Kotani Pay: Provides a seamless on-ramp off-ramp service for feature phones and low-end smartphones with limited internet connectivity and storage space, as well as very fast transaction times and very low fees, even for microtransactions.
Kornchain: Is a programmable digital currency distribution and exchange network underpinned by Blockchain Technology that offers an end-to-end solution and support system for central banks, governments, and financial institutions to fastrack their CBDC initiatives.
Leaf Global Fintech: Provides digital financial services to the stateless on a mobile device through blockchain.
MoneyCaptain: Helps humans unlearn bad money habits, eliminate toxic debt, and create a better financial future.
Marketforce 360: Solves last mile distribution challenges by digitizing delivery/payments for Africa.
Moneo: Is a receipt-snapping rewards app that helps brands to reward existing and potential consumers.
PayHippo: Powers small business lending in Africa by automating the lending process.
Repay Africa: Provides an electronic alternative to cash, cheques, and banks for the un-banked Sub-Saharan Africa.
Sikoia: Enables real-time personalized banking to guide users through their financial options.
SilverBills: Receives, stores, and scrutinizes elderly clients' bills and ensures bills are paid correctly and on time.
Title3funds: Is cracking the code to reach Retail Investor, presenting a wide variety of investment opportunities.
Vittas: Allows individuals and businesses to have better access to working capital.
Waya Money: Provides a digital banking platform to enable quick and easy transfer of money and payment.
Wayapay: Focuses on remittances and aims to reduce complexity, time, and fees, while deploying mobile money.
Paybox: Is a one-stop cross-border mobile payment and fund transfer platform for Africa.
Ponoly: Is a modern digital safety deposit box, protected by the highest grade of encryption.
Pennee Technologies: Provides a credit line for these small businesses to buy the equipment they need to boost their productivity, buy inventory to improve their operational economics, and pay bills on the drabbest of days.
Regtank Technology: Is a one-stop compliance solution for Fintechs in navigating compliance, security, and risk.
Roundups: Shows donors the social impact of their contributions in an engaging way.
PayDay: Helps Africans receive money from anyone, anywhere in the world in less than 3 minutes.
Ubawa Technologies: Enables businesses to accept online payments at their customer's convenience.
Volve Solutions: Allows users to pay, manage, and track expenses anytime, from anywhere.
1WorldBlockchain: Is a Single Staking Investment Pool focused on a portfolio of derivatives trading of Defi and Cefi. The company provides its investors and clients with a high yield of their pledged funds resulting in the highest income within its safe and secure DApp and APP portfolio of revenue projects.
Insurtech companies:
Other sectors:
Beatclub:

Connects the music creator community with record labels, music publishers, tv, creators, and artists.

Be Safe Group: Provides innovative hospitality industry tools to help businesses improve their processes.
CurveBlock: Removes the use of fossil fuels in the world's largest asset class and allows people to become financially independent.
HoyTrabajas: Is a job market network that recruits employees for low-skilled jobs.
House Africa: Provides a digital registry for privately owned land and estates and reduces fraud in the real estate sector in Africa and increases access to mortgages.