This interview is part of a series about innovative startups in Village Capital's network that are responding creatively to the challenges raised by COVID-19.
For years, even as the economy showed signs of fragility, the stock market kept rising, last year reaching the longest bull market in history.
Sally Outlaw was not convinced. She founded Worthy Financial in 2016 to give everyday people a chance to grow their nest egg by buying bonds – but to do it while supporting Main Street, instead of Wall Street. Worthy Bonds offers investors a 5% return while giving you a chance to support small businesses in your community: Worthy uses the bond proceeds to offer secured loans to small and growing companies who offer collateral like inventory.
In the past few weeks, as the stock market has declined to its lowest level since the Great Recession, Worthy has seen an influx of interest in their alternative product. We spoke with Sally about her new vision for community capital.
On the increased interest in Worthy Bonds:
People are panicking: how do I pay my bills? Most people don't have emergency cash stashed away, and they're seeing their money in the stock market lose 30% of its value. As the stock market declined, we were so overloaded with inbound interest that we sold out our first $50 million dollar offering. We just got a second $50 million offering qualified by the SEC last week.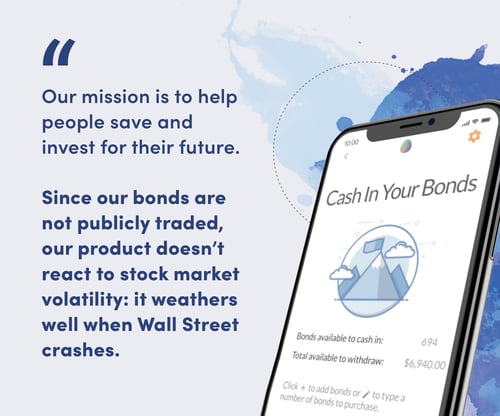 Our mission is to help people save and invest for their future. This is a great time to highlight why people should be diversified. Since our bonds are not publicly traded, our product doesn't react to stock market volatility: it weathers well when Wall Street crashes. Every bond that we sell is diversified across a varied group of secured loans and investments, the heart of which are community businesses, but also include real estate, CD's, Treasury bonds and more. That means for someone who's a gig economy worker, they can still invest $10 at a time and tuck it away at 5% interest, without having to constantly watch the market.
On community capital:
The mission of our business is community capital - which means we are helping each other and keeping the money here in the U.S. Of course we review balance sheets, but our focus is on asset value - we make loans against things like inventory and accounts receivables which makes it easier for companies who have seasonal or inconsistent cash flow to get the capital they need to grow. We're in the trenches with the businesses we lend to: we work with our borrowers to restructure their loans, and give them more time to pay if difficulties hit.
One example: there's a shoe retailer in California that we lend to that has 129 stores - because of the lockdown they're all closed, there's not one penny coming in. But they have all this valuable inventory that's not going away. We're restructuring their loan, giving them additional time to get through this difficult stretch.
On their new offering:
This week Worthy is launching a new offer: If you open and fund an account with $200 or more, we will donate a $10 bond to OffTheirPlate.org, which will help send meals to our COVID frontline medical workers, while in the process, paying for worker shifts at restaurants to prepare those meals. If interested, you can sign up here to join Worthy and support this initiative.